Production and Marketing
Production Department
The vision of the Agricultural sector is: "A Competitive, Profitable and Sustainable Agricultural Sector".
 The mission is to "Transform subsistence farming to commercial agriculture."
Sector Development Objectives/outputs
   Rural incomes and livelihoods increased
·       Household food and nutrition security improved.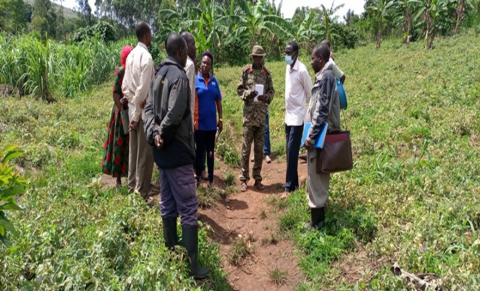 PRODUCTION SECTOR PERFORMANCE REPORT FOR THE FY 2021/2022 AS ON 15/6/2022.
Introduction:
Production sector comprises of the following Departments:
Agriculture
Veterinary
Fisheries
Entomology
Of recent, Operation Wealth Creation/ NAADS and Parish Development Model (PDM) program were added on to the functions of Production department.
This report highlights revenues and expenditures so far for the FY2021/22, key activities implemented,
status of capital projects for the FY2021/22, higher level farmer organizations / cooperatives in the district, Development partners, and challenges.
Production sector revenues and expenditures for the FY 2021/22 as on 15-6-2022.
S/N

Name of grant

Budget /Releases

Expenditures as of 15th -6-2022

Balances

Remarks

1

Sector Conditional grant –Wage

660,060,000

564,050,570

96,009,430

About 44,565,393 will be taken back

2

Sector Condition – Non wage (PMG, LRR, Un conditional grant & Extension grant).

224,969,874

 

222,432,654

2,537,220

 Some requisitions are still pending approval /payment on the system

3

Sector Conditional - Development (Extension & PMG)

58,855,050

 

54,355050

4,500,000

 Likely to be taken back. 4500,000 was allocated for land titling- no progress at all. We  requested for a delegation to use these funds to fence production office land & levelling of the office courtyard- still pending to date

4

Parish Development Model (PDM) recurrent/revolving funds

724,630,701

124,785,981

619,916,720

 690,614,285 will be deposited on 58 PDM SACCO accounts in the district 

5

PDM (ICT gadgets)

70,697,565

0

70,697,565

 

Total

1,739,213,190

965,624,255

793,660,935

 
Interventions under Production Sector for FY 2021/22
All activities in the sector are geared towards ensuring household food and nutrition security, income generation and improved livelihood of Kiboga district community.
Food security status: Kiboga district Local Government is generally Food secure despite the challenging unpredictable weather conditions of erratic rainfall and extended dry spell during the March – June planting season. This has resulted into poor crop yields especially for annual crops (maize, beans, horticultural crops like tomatoes, cabbages, inadequate pastures and water for production which may lead to low future supply of agricultural commodities, moderate food availability supply and consequently high prices.
Under NAADS/Operation Wealth Creation program, inputs such as maize seeds, bean seeds, banana tissue culture plantlets, cassava cuttings, fish fingerings and fish feeds, grafted mango seedlings and Cashew nut seedlings were received and distributed to selected famers district wide.
Key activities implemented in the FY 2021/22:
Activity

Location / number

Source of funds/remarks

Agriculture Extension services: As a core sector mandate, provision of Extension services through farmers mobilization & trainings, Field visits, meat inspection, plant clinic operations,  treatment and vaccination of animals, surveillance of crop& Livestock pests/ diseases/ vectors, inspection & regulation Agro-input shops,  control of livestock movements through issuing out livestock movement permits, registration of livestock traders, monitoring/ supervision of sector activities e.t.c  were  done.

District wide in 9 LLGs

Extension grant

Staff Salary:

Payment of staff salary for the months of July 2021 to May 2022.

 

NB: Salary for 17 newly recruited Parish Chiefs under PDM for months of February – May 2022

 

32 sector staff

 

15 out 17 parish chiefs accessed payroll & were paid

 

Extension grant/ PMG

 

PDM funds

Assets:

Repair and maintenance of sector assets and premises (vehicles, tractor, motorcycles, sector cows &office premises) 

 

Production head quarter offices

 

Extension grant/ PMG

Renovation and furnishing of the of the Livestock Dispensary unit into a complete regional office for Kiboga, Kyankwanzi, Kibaale, Masindi and Hoima region) for Dairy Development Authority.

Production head quarter offices- Kiboga

Dairy Development Authority (DDA) and Kiboga DLG.

NAADS/OWC:

Identification, selection, preparation of beneficiary farmers and distribution of NAADS/OWC inputs (8,000 kg of bean seeds, 8,000 kg of maize seeds, 6,520 banana tissue culture plantlets, 1,000 bags of cassava (NAROCAS 1) cuttings, 30,000 fish fingerings and 950 kg of fish feeds, 14151 grafted mango seedlings and 3000 Cashew nut seedlings) to selected farmers.

 

NB: 100 pigs  (67 gilts and 33 boars) were not supplied

District wide in 14 LLGs

NAADS/OWC

Veterinary Laboratory:

Renovation, furnishing and commissioning of the Kiboga district Veterinary mini  Laboratory

Production head quarter offices

JICA- Obihiro University, Japan  & Makerere University, Uganda

Parish Development Model (PDM): PDM awareness creation, Enterprise selection, formation of enterprise groups, formation of Parish Development committees (58) and PDM –SACCOs (58) to date. However, some PDM program activities are still  On-going data collection, SACCO formation & registration.

District wide in 14 LLGs, 58 parishes , 281 villages.

PDM
Status of Capital Projects for the FY 2021/2022 for Production Department
S/N

Type of Project

Quantity

 Cost (Ushs)

Quarter of execution

Status

 

1

Procurement and supply of  Laptop

1

2,500,000=

Q3

 Procured, delivered through delegation of authority -SAO & payment was effected

2

Procurement and supply of hand held GPS – Map 64SX / 64ST (Garmin) machine.

1

2,500,000=

Q3

3

Procurement, supply and installation of micro Drip Irrigation scheme at Production Office Headquarters

Contractor: M/S Muwad Investments (U) Ltd

1

3,631,450=

Q3

 Irrigation kit procured & scheme installed. Payment was effected.

4

Procurement and supply of a motorized maize sheller

1

6,800,000=

Q3

 

 

 Procured, delivered & payments were effected 

5

Fabrication, procurement and supply of jab planters

2

1,500,000=

Q3

6

Procurement and supply of a forage chopper

Supplier: Smart agricultural  technologies, supplies & consultancy (U) Ltd.

1

6,500,000=

Q3

7

Procurement and supply of a bee venom collector

1

4,500,000=

Q3

 

 Procured, delivered & payments were effected 

8

Procurement and supply of a honey refractometer machine

1

1,617,800=

Q3

9

Procurement and supply of a wet coffee processing huller

Supplier: Alifonso lines  Company Ltd.

1

3,500,000=

Q3

10

Procurement and supply of assorted pasture seeds (Super napier grass & Brancheria morota)

 

Supplier: M/S Muwad Investments (U) ltd

33 bags of supper napier & 31 bags of Brancheria

5,500,000=

Q3

Pasture planting materials Super napier grass & Brancheria morota) delivered & supplied to selected beneficiary farmers. Demonstration sites/ mother gardens were established.

 Payment was effected.

11

Supply of materials, construction of a tank base, plumbing, and guttering of production office block

 

 

Contractor: Mplambu construction  & Joinery company

1

6,199.956=

 Q4

 Tank base was constructed, gutters were fitted & a 10,000 litres plastic water tank was installed to demonstrate rain water harvesting & utilization.  Payment in progress(approved on the system).

12

Repair & maintenance of sector motorcycles, vehicles ( Double cabin UBE 657Q & Water Bowzer - LG 0027-051 & tractor –UAT 295H

25

13,000,000=

Q1,2,3, & 4

 Repaired/ serviced & maintained. All in good working conditions & operational

13

Support to acquisition of land titles for Production lands (Kacwangozi, Budimbo and Production Office Headquarters)

3

4,500,000=

Q4

 Still Pending todate

No progress at all. Challenge failure to access the Administrator for Late Haj. Mbatusa's estate

14

Levelling  and  refilling of production Headquarter office premises / compound

1

2,799,600=

Q4

BOQs not yet made

Total

58,855,050=

 
 Farmer organizations /cooperatives
S/N

Cooperative

Name of Cooperative / Association

Membership

Sex

Sub County

M

F

1

Maize cooperatives

Lwamata grain producers cooperative

304

206

98

Lwamata S/C

Greater Kibiga Youth grain farmers multipurpose  cooperative

267

180

87

Kibiga S/C

 

Piggery Cooperative

Kiboga Kisoboka pig farmers cooperative Society Limited

34

17

17

Kiboga T/C

2

Dairy Cooperatives

Dwaniro Livestock farmers and Dairy cooperative

720

600

120

Dwaniro S/C

Kiboga  livestock farmers Cooperative Society 

348

300

48

Kapeke  S/C

3

Coffee cooperatives

Muwanga Coffee producers cooperative

100

60

40

Muwanga S/C, Nakasozi S/C

Greater Bukomero Coffee farmers' Cooperative

63

58

 

5

 

Bukomero S/C & Bukomero T/C

4

Bee keepers cooperative

Kiboga Bee keepers & Honey processors Cooperative

320

225

95

Kiboga-Kibiga-Kapeke SCs
NB: These were formed due to interventions of NAADS/OWC, enhanced extension services delivery and collaboration with development partners.
Development partners in the sector: 
1. SASAKAWA Africa 2000. Operates in greater Lwamata and Bukomero Sub Counties.
2.   Tick and Tick borne disease control Project
Funded by Jica and Makerere University, Obihiro University, Japan, Makarere University and Kiboga DLG operates mainly in Kapeke and Dwaniro S/Cs.
Key activities implemented  
·      
Sensitization and training of farmers and technical staff on ticks and tick borne diseases
·      
Demonstrations on tick control using appropriate acaricides
·      
Research on tick and borne diseases
·      
Rehabilitated /renovated and furnished Kiboga Veterinary Laboratory.
4. Dairy Development Authority (DDA)
DDA is one of the parastatals of the Ministry of Agriculture, Animal Industry and Fisheries and is responsible for regulation and development of the dairy industry in Uganda.  Operates mainly in Dwaniro, Kapeke, Bukomero, Lwamata S/Cs.
Key activities implemented
·      
Training of dairy farmers in pasture improvement, pasture management conservation and promotion of dry season farming (silage and Hay making).
·      
Inspection of Dairy/ milk collection centers for quality assurance in the dairy value chain  
·      
Rehabilitated/renovated and furnished of Kiboga district Veterinary dispensary house into a Regional DDA Office for Mid- Western region.
5. International Institute of Rural Reconstruction (IIRR) implementing Agricultural Value Chain project in Maize production and Village saving. Operates in in Six LLGs of Kapeke S/C, Kibiga S/C, Kyekumbya, Lwamata S/C, Bukomero S/C and Kyomya S/C.
6. Heifer International
7. GCCA 2+ / Hunger project.  Promotes Climate Smart Agriculture technologies, kitchen gardening and Biogas
8. Kiboga District Farmers Association (KDFA). Main
Key challenges encountered
Ø 
Unpredictable weather changes (erratic rain fall and extended dry spells) all threatening future food security and income.
Ø 
Late release of PDM guidelines resulting into late implementation of program activities (PDM data collection, enterprise selection, enterprise group and PDM –SACCO formation & registration etc.).
Ø 
The unsettled land issues/ disputes for MAAIF/Production land (Animal Holding ground in Budimbo, Kapeke S/C which was sold by the District Land Board, Kacwangozi land and Production office land resulting into failure to utilize funds (4,500,000=) planned to acquire land titles for the sector.
Ø 
Inadequate transport means for extension workers and wider coverages (extension to farmer ratio of 1: over 4500 vs the recommended 1:500)
Ø 
Inadequate funding and un funded priorities like water for Production and small scale irrigation
Ø 
Fake agricultural inputs (agro-chemicals, seeds, equipment) resulting into big losses by farmers.
Ø 
Inadequate NAADS/OWC inputs to meet the farmers' over whelming demand.
SSEBULIME GODFREY
DPO, KIBOGA 
MARKETING AND COMMERCIAL SERVICES
*Support formation and development of cooperative societies.
*Identify market potentials and advise producers accordingly.
*Cause of auditing of books of accounts for the cooperative societies.
*Support business develpment and management as well as sensitize communities on industry investments and warehouse receipt, commercial contracts, farming and microfinances.